viernes, 10 de abril de 2009
Publicado por Kevyn en 16:48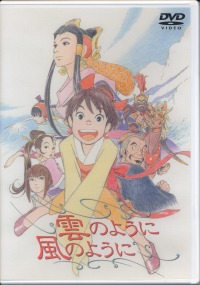 Titulo original:
Kumo no you ni, kaze no you ni (Like the clouds, like the wind)
Director:
Katsuya Kondou (a veces dicho "Kondo")
Año:
1990
Idioma:
Jap sub en castellano
Estudio:
Pierrot
Cuando el decimoséptimo emperador de la era Sokan muere, su hijo debe de preparar su ascenso al trono, por diversas y truculentas intrigas políticas el palacio y el país entero se verán envueltos en una rebelión. Pese a todo esto, el nuevo emperador debe de encontrar una esposa que le de descendecia. Esta búsqueda lleva a los heraldos del emperador a recorrer toda la nación. ¿Quién será la afortunada?
Como_las_nubes,_como_el_viento
*******************
0 Comments: